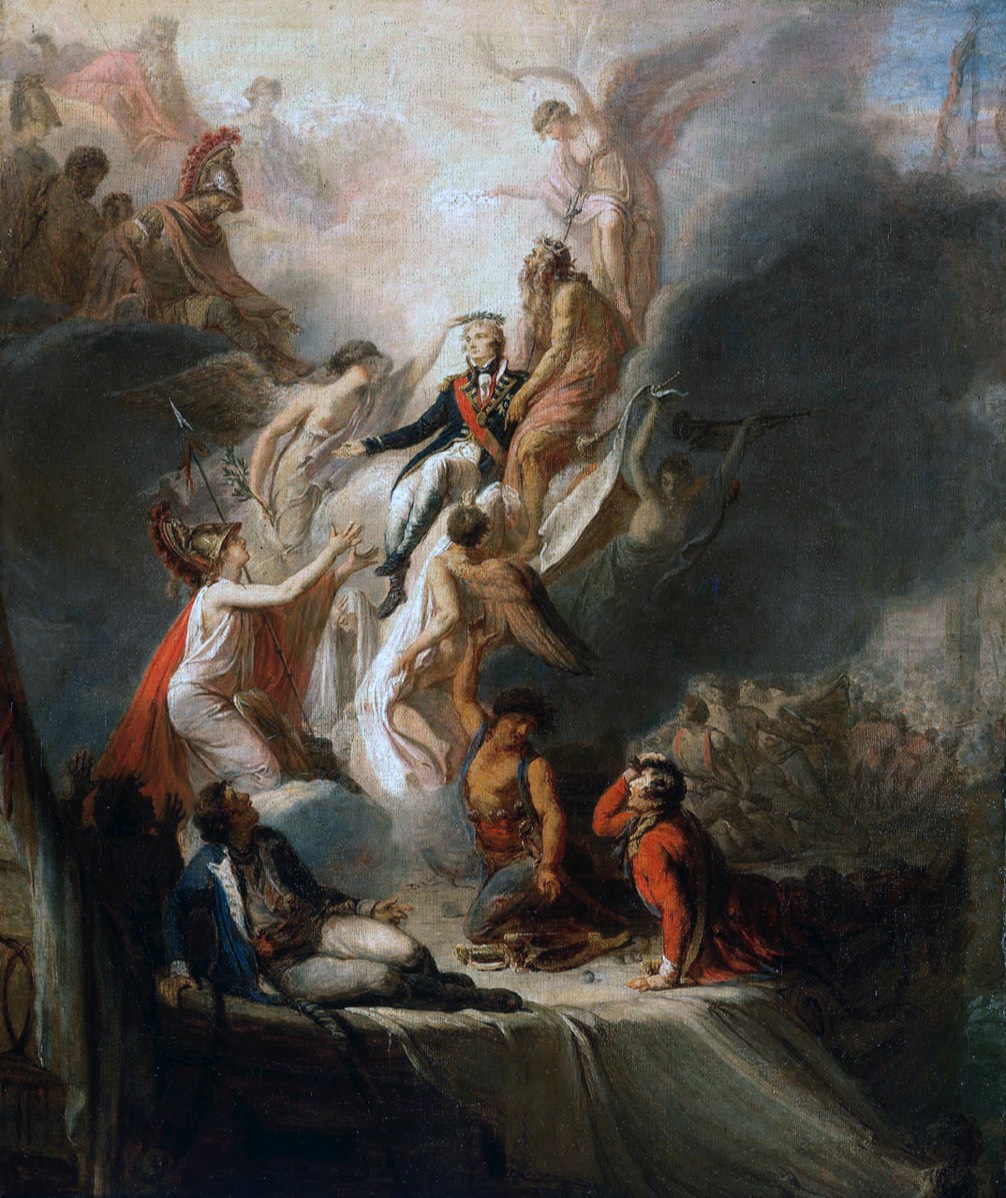 Apotheosis of Nelson - Pierre-Nicolas Legrand de Lérant
CODICIL TO LORD NELSON'S WILL

October the twenty-first, one thousand eight hundred and five, then in sight of the Combined Fleets of France and Spain, distant about ten miles.
Whereas the eminent services of Emma Hamilton, widow of the Right Honourable Sir William Hamilton, have been of the very greatest service to our King and Country, to my knowledge, without her receiving any reward from either our King or Country; — first, that she obtained the King of Spain's letter, in 1796, to his brother, the King of Naples, acquainting him of his intention to declare War against England; from which Letter the Ministry sent out orders to then Sir John Jervis, to strike a stroke, if opportunity offered, against either the Arsenals of Spain, or her Fleets. That neither of these was done is not the fault of Lady Hamilton. The opportunity might have been oftered. Secondly, the British Fleet under my command, could never have returned the second time to Egypt, had not Lady Hamilton's influence with the Queen of Naples caused letters to be wrote to the Governor of Syracuse, that he was to encourage the Fleet being supplied with everything, should they put into any Port in Sicily. We put into Syracuse, and received every supply, went to Egypt, and destroyed the French Fleet. Could I have rewarded these services I would not now call upon my Country; but as that has not been in my power, I leave Emma Lady Hamilton, therefore, a Legacy to my King and Country, that they will give her an ample provision to maintain her rank in life. I also leave to the beneficence of my Country my adopted daughter, Horatia Nelson Thompson; and I desire she will use in future the name of Nelson only. These are the only favours I ask of my King and Country at this moment when I am going to fight their Battle. May God bless my King and Country, and all those who I hold dear. My relations it is needless to mention : they will of course be amply provided for.
Nelson and Bronte.
Witness — Henry Blackwood. T. M. Hardy.
Entgegen seines letzten Willen vergab die Regierung Gelder ausschliesslich an Nelsons Familie und ignorierte Lady Hamilton und Horatia. Erstere sollte sich verschulden, im King's Bench Debtors Prison eingesperrt werden und dann vor ihren Gläubigern nach Calais fliehen. Als Lady Hamilton 1815 starb, zog Horatia zu einer von Nelsons Schwestern und heiratete schließlich einen Geistlichen, um als Pfarrerfrau in Ruhe mit einer großen Familie mit zehn Kindern zu leben.